Candy Caldwell

's Fan Club site!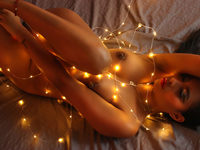 Welcome to my Fan Club! This is my place to connect and share with all my favorite fans. Members get a 5% discount on my shows and VODs, plus I can give you free Members Only shows and you'll show up in my room in my special fan font color.
Welcome guys Date: 05/30/21
I hope spend a good time with you. I want be your friend and lover and your sweetest candy that you remember all day. Kisses ...
Read More